Italy's stock market, also known as the FTSE MIB, has seen its fair share of ups and downs over the years. As we delve deeper into this topic, let's take a closer look at some insights that can help you navigate this market.
Understanding Italy's Stock Market
The FTSE MIB, which stands for Financial Times Stock Exchange Milan Stock Exchange Index, is made up of the 40 most liquid and capitalized stocks on the Italian Stock Exchange. Some of the top companies listed on this stock exchange include Eni SpA, UniCredit SpA, and Intesa Sanpaolo SpA.
Investors looking to trade on the FTSE MIB can do so through various platforms and brokers. It's important to note, however, that the Italian stock market tends to be more volatile than others due to the country's economic and political issues. Additionally, investors must consider factors such as exchange rates and geopolitical events that can impact their investments.
Tips for Investing in Italy's Stock Market
1. Analyze Market Trends Before Investing
Before diving into the Italian stock market, investors should take the time to research and analyze trends in the market. They should look for patterns in market history and identify any potential triggers that could impact their investments.
2. Focus on Strong Fundamentals
Investors should focus on strong fundamentals when investing in Italian stocks. This includes companies with strong financials, solid management teams, and a proven track record of consistent growth.
3. Consider Cultural and Political Factors
Italy's political and cultural landscape can also impact the stock market. Investors should consider how the country's political situation and cultural nuances can impact their investments.
4. Diversify Your Portfolio
Diversification is key when investing in Italy's stock market. By spreading out investments across different sectors and industries, investors can minimize their risk and increase their chances of success.
Ideas for Investing in Italy's Stock Market
1. Investing in Oil and Gas Stocks
Italian energy companies, such as ENI, are one of the largest industries in the country. With Italy's geographic advantage, ENI has a strong focus on oil and gas exploration and production, making it a viable option for investors interested in this industry.
2. Investing in Financial and Banking Stocks
Investors looking for stable and reliable investments may want to consider financial and banking stocks. Italian banks, such as UniCredit and Intesa Sanpaolo, are among the largest financial institutions in Europe and offer a stable and steady investment in the Italian stock market.
3. Investing in Technology Stocks
Italy's technology sector has experienced strong growth in recent years, making it another viable option for investors. Companies such as Telecom Italia and STMicroelectronics are worth considering for investors interested in this field.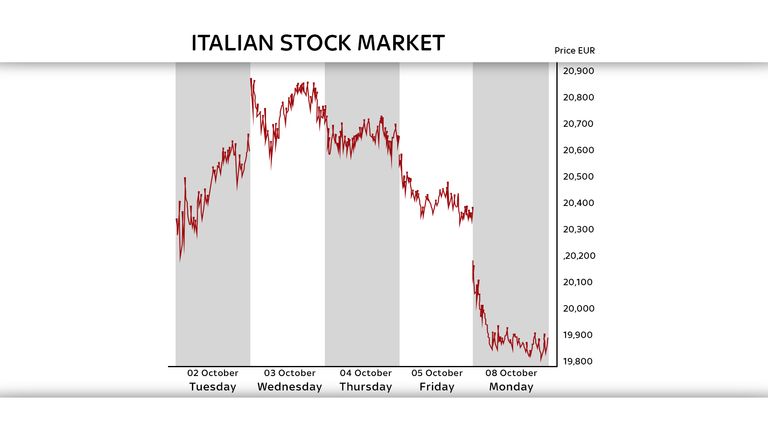 4. Investing in Consumer Goods Stocks
Finally, investors looking for consumer-focused investments may want to consider companies such as Luxottica, the world's largest eyewear company, or Ferrero, the confectionery giant behind Nutella and Kinder eggs.
How to Navigate Italy's Stock Market
1. Understand the Risks
Investing in any stock market comes with a certain amount of risk. Investors should understand the risks associated with trading on the FTSE MIB and take necessary precautions to minimize their exposure to these risks.
2. Keep an Eye on Market Trends
As mentioned earlier, analyzing market trends in the Italian stock market is essential for success. Investors should keep an eye on market trends and adjust their investment strategies accordingly.
3. Stay Informed
Staying informed about Italy's political, economic, and social landscape is key when investing in the stock market in this country. Investors should stay up-to-date on any news or events that could impact their investments.
4. Seek Professional Advice
Finally, seeking professional advice from a trusted source is always a good idea when investing in any stock market. Investors should consult with a financial advisor to create a solid investment strategy and receive guidance on long-term planning.
Conclusion
Investing in Italy's stock market offers investors a variety of options across different industries and sectors. By understanding the market's nuances and following these tips, ideas, and strategies, investors can make informed decisions that lead to long-term success.
If you are searching about Italy Stock Market Index (IT40) | 1997-2021 Data | 2022-2023 Forecast you've came to the right web. We have 7 Pics about Italy Stock Market Index (IT40) | 1997-2021 Data | 2022-2023 Forecast like Italy Stock Market (FTSE MIB) | 1997-2021 Data | 2022-2023 Forecast, Italy Stock Market Index (IT40) | 1997-2021 Data | 2022-2023 Forecast and also Italy Is Going To Require Grocery Stores To Donate Any Unsold Food To. Here it is:
Italy Stock Market Index (IT40) | 1997-2021 Data | 2022-2023 Forecast
tradingeconomics.com
Starting A Business In Italy – LRN Consulting – Startup Consulting
lrnconsulting.eu
ease
Italy Stock Market (FTSE MIB) | 1997-2016 | Data | Chart | Calendar
www.tradingeconomics.com
italy market mib ftse 1997 calendar chart data
How Unpredictable Will The Crack Heads Be About Italy? – Deflation Market
deflation.market
italy market stocks unpredictable crack heads deflation lower stoxx peaked highs southern europe seen 2000 did only
Italy Is Going To Require Grocery Stores To Donate Any Unsold Food To
www.simplemost.com
supermarkets
Italy Shares Slide On Deepening Spat With EU | Business News | Sky News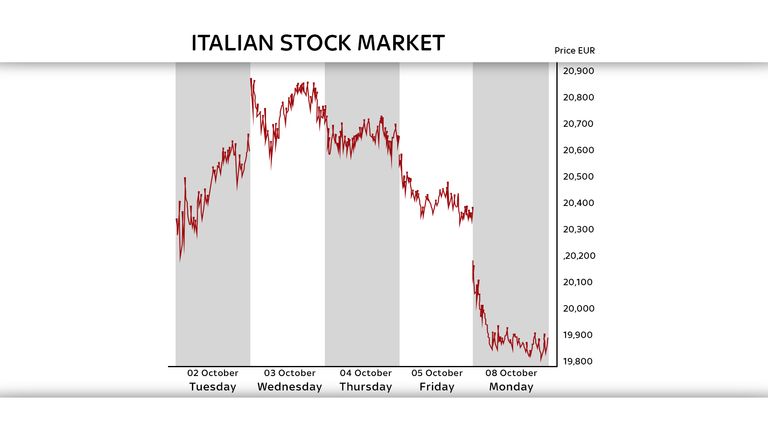 news.sky.com
italy eu index deepening spat shares slide market italian sky sharply fell monday main
Italy Stock Market (FTSE MIB) | 1997-2021 Data | 2022-2023 Forecast
tradingeconomics.com
ftse 2023
Italy eu index deepening spat shares slide market italian sky sharply fell monday main. Italy shares slide on deepening spat with eu. Italy stock market index (it40)